Every prospective homebuyer is looking for an edge in the hunt for their dream home. Finding that perfect property is the first step, but a close second is getting the best deal possible.
There are books and websites galore offering strategies, tips and insider tactics. But you already have access to what's perhaps the most powerful tool out there when it comes to getting the best home at the best price. What is that tool, you ask?
A calendar.
Timing can be everything when purchasing a home. One of the real estate industry's best-kept secrets is that the winter months can be a homebuyer's best friend. Traditionally, the winter months are the slowest of the year for home sales. That often means fewer homebuyers, lower prices, more focused Realtors and sometimes desperate sellers.
The combination can give winter homebuyers an incredible advantage and a unique opportunity to save money and maximize their purchasing power.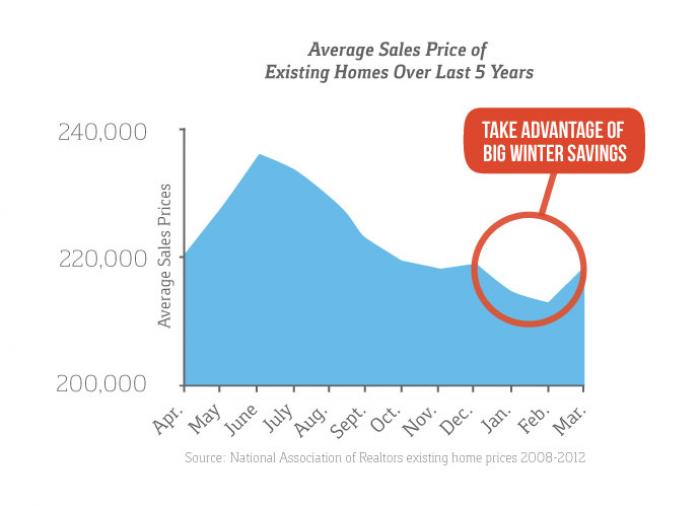 Traditional Winter Slowdown
The change in seasons tends to signal a shift in home listings and values. The idea of touring houses in the cold and snow doesn't resonate with a lot of potential buyers, whose focus often shifts to the holidays. At the same time, many homeowners with children want to avoid selling their home in the middle of a school year. The national inventory of homes tends to dip about 15 percent in the winter compared to the summer, according to the National Association of Realtors.
Home prices typically follow suit, falling an average of $7,000 after Labor Day and bottoming out in December, according to NAR. Mortgage commentator Dan Green crunched the numbers earlier this year and found that:
This seasonal decrease represents an opportunity for prospective homebuyers who are ready to strike. Let's take a look at some of the benefits and advantages that winter homebuying can generate.
Less Demand, Motivated Sellers
Part of this is simple supply and demand. Sellers who list a home during the winter may be more interested in getting out from under the mortgage rather than maximizing profits. Listing agents don't exactly rave about how January and February are prime months for sellers.
That motivation coupled with fewer competing homebuyers can lead to significant savings. Someone selling their home during the winter may be more willing to meet your terms than a spring or summer listing, be it on the purchase price, closing costs and concessions, the homebuying time line or more.
The flip side is that you may have fewer properties to choose from. That's certainly a consideration, but for many homebuyers the potential deals and advantages ultimately outweigh the slimmer inventory.
Having fewer competing homebuyers out there on the market can also mean both Realtors and mortgage industry professionals will be more at your disposal. Most VA home loans typically close in a 30 to 45 days regardless of the month, but you may be able to accelerate your closing schedule in the wintertime.
Seasonal Viewpoint
Shopping for homes in the winter months also gives you a different perspective on properties. Since most home tours take place during spring and summer, you rarely get a chance to take in the overall condition of a home and its surroundings in the fall or winter.
Are the streets sufficiently plowed? Does the home's snazzy fireplace actually work? How about the heating system?
Yes, you're working with less daylight in which to tour homes during the winter. But those hours may actually be more revealing than what you'd see on a warm summer day.
To be sure, there's no guarantee that a November-February window will work for you. But this traditional homebuying "off-season" can be an under-the-radar gateway to getting the best deal on your dream property.
So bundle up, brave the cold and consider kick-starting the homebuying journey. Who knows what kind of opportunity awaits while everyone else is inside clutching a cup of hot cocoa?